Hi friend! This is the page where I share all the businesses I have chosen to support because I use them and love them and want to share them with you.
These are my affiliate links. To learn more about affiliate links, click here.
I don't know if you saw my cow "painting." If you didn't, you need to check it out. I love it so much, and it was actually made from a photo I took that I converted with an app, into a faux watercolor painting then had it put on a canvas at Easy Canvas. They are great and they even helped us out with a gorgeous canvas for FREE for a Habitat For Humanity project I am working on with a group of awesome bloggers.
One of my favorite go to stores for home decor and out of the box things I never knew I needed, is One Kinds Lane.  They have such cool items and they have awesome customer service.
I'm always up for a good steal. Decor Steals has some "get it while you can" deals and they are usually pretty cool things. Make sure you keep an eye on what they are offering.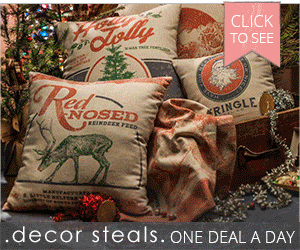 Another awesome place to shop is Stitch Fix…except you don't really have to shop there. They do it for you!!!! If you are anything like me you don't have the time or patience for clothes shopping but unfortunately, clothing is a must! Take a minute and check it out so you can let them do the planning and you get back to living.


Don't forget about all the biggest decorating time of the year, Christmas. My go to store for Christmas decor is Balsam Hill. But what most people don't realize is that they don't just sell trees and wreaths, you can get all sorts of home decor. It's worth a look.
I hope you find something you are looking for, and if you have any questions about my favorite items, I am happy to answer them.